The musical journey of The Halo Trees began sometime around the year 2016 in Berlin. Songwriter, guitarist and singer Sascha Blach – a creative shapeshifter who had already gone through different musical worlds – could not help but follow this new path into the unknown. The vision: deep and melancholic music with plenty of room for the voice and handmade instrumentation. A comforting sound universe, inspired by David Bowie, Editors, Mark Lanegan, The National or Nick Cave. A mixture of indie-rock, pop, wave and post-rock with many tom-toms, melodic basslines, atmospheric guitars, catchy violin and sonorous, warm vocals.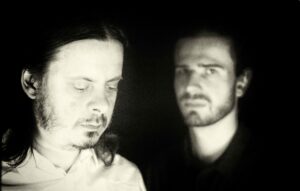 But it was a long and winding road. Sascha spent hundreds of hours in his studio trying to find the sound of The Halo Trees. Countless songs were written and discarded, sometimes more than twenty mix versions per song were created, until it felt right. On the one hand, the great vision and the will to realize The Halo Trees, on the other hand self-doubt whether the result is good enough. Euphoric moments, followed by weekends full of frustration. Listening sessions with friends. Trial and error. Years passed. But idealism remained. In 2018, the EP "Time And Tide Wait For No Man" appeared to let the public listen to the first steps. In the meantime musicians came and went until Kathrin Bierhalter (violin, guitar, vocals), Serdar Uludag (bass) and Stefan Helwig (drums) finally formed a suitable band with Sascha, that releases the debut album "Antennas To The Sky" these days. It is an honest and personal album and a distillate of the last three years. "If it's good, let others decide. I can not judge that after such a long time, "says Sascha Blach. "Fact is: I had to make this album, had to make this band. And I am so happy that I finally am able to release these songs."
What makes The Halo Trees authentic beside the music is that they are a real Do It Yourself band. "Antennas To The Sky" was produced in the band's own Winter Solitude studio in Berlin, all video clips were shot without external help, the artwork was also created single-handedly and the album is released on their own label Winter Solitude Productions. And "Antennas To The Sky" is only the beginning. "I feel like more and can imagine making The Halo Trees long-term into old age. There are also countless new tracks," says Sascha, who notes: "By the way, meanwhile it's very easy for me to write this kind of music." Thus another such difficult birth should not happen again in the future.
Line-up:
Sascha Blach – Vocals, Guitar, Synth
Stefan Helwig – Drums
Maik Antrack – Live Bass
Discography:
Time And Tide Wait For No Man (EP, 2018)
Antennas To The Sky (Album, 2019)